These are our staple team building programs that have stood the test of time. If you're looking to strike up a little friendly competition or host an event for a greater cause, these programs are guaranteed to provide a  truly rewarding experience.
Scavenger Hunts. Whether your group is looking for a traditional scavenger hunt or high-tech SCANventure hunt that utilizes participant's smartphones, we have the perfect race in downtown Denver that can be customized to any size (from 10 – 450) and time frame. Looking outside Denver, perhaps Boulder, Vail, Colorado Springs or Park Meadows Mall? No problem, we have scavenger hunts built for these locations as well.
Traditional Scavenger Hunt – Get ready to have your breath taken away at our "mile-high" hunt in Denver's historical LoDo (lower downtown) area as well as the famous 16th Street Mall. Your scavenger hunt is a walk through time from the late 19th Century, when a maze of factories, warehouses, hotels and saloons gathered around regal Union Station-the hub of train travel in the Rocky Mountains, all the way to the modern amenities of the Pedestrian Mall, with a myriad of stores and restaurants. On your hunt, expect to find clues on the ground as well as high in the sky, on little plaques at the street corners and by looking inside and outside the box.
SCANventure Hunt – We've taken our traditional Scavenger Hunt and made it high-tech!  With the use of Smartphones, this modern day hunt immerses participants in a challenging, clue-solving adventure on the streets of Downtown Denver.
Along the way, participants explore vital business issues like brainstorming, problem-solving, time management, team communication, style differences, cooperation (vs. competition), adaptation to change and innovation.  The goal is to experience first-hand this most basic fact:  that one person, working, alone, could never accomplish the task of solving all the clues.
Participants are led on a hunt via a series of strategically placed QR Codes that prompt various tasks or trivia questions.  It is completely customizable and can include "Did You Know" or interesting facts as well as tasks to post photos on social media.  Points are tracked electronically and all participants are able to view the leaderboard to know exactly where they stand at all times.  The facilitator or planner gets a high level view of the progress through a secure website as well.
All guests need is a Smart Phone and a free, QR code reader and they are ready for a completely new and entertaining scavenger hunt experience like no other.
Build a Bike for Charity. Teams compete in challenges to earn bike parts in order to assemble and decorate the tricycles and/or bikes that are donated to the charity of your choice. A representative from that charity may be on-site to collect the bikes and share some information about the organization.
The group will be broken into teams who will compete in three rounds of competition to earn "biker bucks" where they'll be able to purchase all the parts necessary to assemble and decorate the tricycles and/or bicycles. Once the bikes are built, they then have to decorate it and parade it to the bike specialist who will check it and make sure it's in working condition and has been assembled correctly. Throughout the night we will play games that will give the groups opportunities to win additional points and biker bucks.
HIgh-Tech Option: Build a bike is one of the most popular CSR programs but now, this new high-tech version is the future of this very popular giveback program. With help from our SmartHunts® App and a ton of Apple iPads®, we have created the most fun, fast-paced, hi-energy, hi-tech build a bike  program in the world!
The program features Apple iPads® delivering text, audio and video clues, exciting gaming challenges, and the ability to capture and save all your memories of this truly heartwarming event with photos and video of your team in action.
Operation Support Our Troops. We'll create a rewarding experience that includes carefully assembling care packages to be sent to troops serving our country overseas. The object of the team building is to collect as many items from each activity station in order to fill your military care package to the brim!
A series of military-inspired games is set up at the other end of the room. The object of the event is to earn "funny money" playing the games and thus, be able to buy care package supplies with this money at the army surplus store. The amount of money won is based on how well the games are played. Prizes are awarded to the team that collects the most items from each category on the list, and the team that has accumulated the most money after buying their care package items. Of course, no team loses, as all of the boxes will be fully-stocked and sent to members of the military through the USO on behalf of your organization.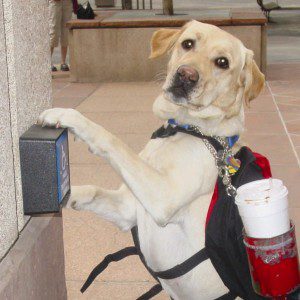 Freedom Service Dogs. The Freedom Service Dog Challenge is a unique team experience that partners service dogs and their trainers with your employees.
After learning the click and reward, treat-training method, teams of 5-7 people are partnered with a service dog and its trainer. The objective: to give each team member the opportunity to teach the dog one task. This is accomplished through team collaboration guided by the Freedom Service Dog trainer. These tasks are crucial for the dogs to learn in order to be of the most assistance to their future owners.
On completion of the presentations, a facilitator will debrief the group discussing how the experience they've had and the knowledge they've gained working with the dogs can be applied to the workplace and beyond. A unique and heartwarming event, The Freedom Service Dog Challenge is a one-of-a-kind opportunity to work together while experiencing these wonderful animals and an amazing organization.
Unser Racing. Once you arrive at the facility, the race director takes over and transforms your outing into a professional race event… think Indy Car on the streets of Downtown Denver. Everyone has just become a member of the Pro Unser Race Team.
We start with the official driver meeting which includes a full overview of track and kart safety, race kart operation,track and race conduct and the race format. Now the fun starts. Everyone gets geared up by pulling on an Unser racing suit and strapping on a helmet. Enough talking–it's time to race! The format is a 45-minute team relay where everyone gets a chance to show their stuff.  As the green flag drops on the track, electronic timing and digital signage keep everyone updated on the results. How is your team doing on the quarter mile long 11 corner track? It's fast, fun and challenging–especially when you are one in the high end and highly modified, gas powered race karts. The checkered flag will drop and the results will be tallied. Did your team win?
Build a Raft. Get your feet wet with the Build-a-Raft Competition, a team building event where groups employ problem solving techniques and tap into their collective engineering and teamwork abilities to build a racing vessel for a wild and wet competition.
Using only the materials provided – which may include PVC pipes, wood, tarps, duct tape, inner tubes, float rings and pool noodles, teams are given a limited amount of time to construct and test their rafts. Each team must identify 2-3 willing team paddlers to board the rafts during our relay style race. These racers must switch off with other team members and exchange paddles and lifejackets during each leg of the regatta!
Filed under: Destination Management, Teambuilding